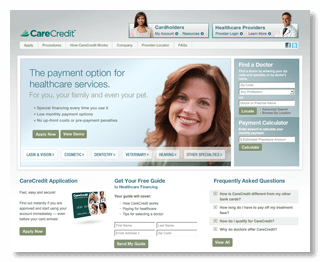 Cosmetic procedures can be costly but the value added to an individual's self-esteem by eliminating a concern which makes him or her feel self-conscious can be priceless. At Sule Plastic Surgery, we understand the importance of confidence in your appearance especially in today's competitive job market.
Most cosmetic procedures are not covered by insurance so many patients seek financing to fund their procedure expense. Plastic surgery financing is available to most patients regardless of the procedure and monthly payments vary depending on the size of the loan, the patient's finances and the time period allotted to repay the loan.
The amount of loan you can obtain from most plastic surgery finance companies depends on your overall credit history. Many patients choose to pay some of the cost up front by credit card or cash and finance the remaining portion over a few months period.
We encourage our patients to seek out the best plastic surgery financing for their specific needs as there are several good options out there. For your convenience, we do accept Care Credit and our staff are trained to assist you through the entire application process through to your approval. Feel free to ask us to review your options if payment plans are the answer for you.
Absolutely the best! Would never use anyone else! Amazing skill!
by MP
Jan29,2022
Can't say enough great things about Dr. Sule and his staff. Amazing results and the best care anyone can hope for. If anyone is considering doing any work on their face or sinus surgery like I needed he is definitely who you should use. The skill and patience of this Dr. is nothing short of amazing. So happy with my results I can breathe again and love the work he also did on my eyes. Thrilled with all my results and with my care. Thank you!
Category: reveiws
Great results
by Brian Sanford
Aug13,2019
Great experience. Great result. Originally, I needed reconstructive nose surgery after a mohs procedure. I requested a neck lift, too. Glad I chose Dr. Sule.
Category: reveiws
Thank You Again
by J.S.
Nov 9,2018
I wanted to thank you and tell you what a beautiful job you did on my surgery. My eyes look great. You did exactly what I asked for. You and yourstaff made it such a great experience.
Category: reveiws
Amazing Experience
by K.N.
Nov 9,2018
I wanted to thank you so much. My nose looks great. Your work is some of the most natural and beautiful I have seen.
Category: reveiws
Thank You
by E.P.B.
Nov 9,2018
I'm just wanted to thank you for doing a great job. My face looks amazing. I have NEVER looked better.
Category: reveiws
Powered by Crystal Clear Digital Marketing Reviews