Check Following Plastic Surgery Vitamins and Nutrients Supplements
Vita Medica
Physician formulated nutraceuticals to support recovery and wellness. From our homeopathic Arnica Montana for bruising & swelling to our comprehensive Recovery Support Program, we offer a product to suit every recovery need and budget.
Arnica Anti-Bruise KitIncludes oral and topical forms of Arnica Montana to reduce bruising from the inside and out. Homeopathic Arnica Montana 30X potency soft-grain tablets dissolve rapidly and stimulate the body's natural defense against bruising. Recover cream uses a unique liposome nanotechnology trans-dermal system to ensure delivery of active ingredients to the skin. Includes Recovery Cream and Arnica Montana 30X Bottle.
Arnica Montana 30X BottleA homeopathic remedy to reduce the discomfort, bruising and swelling associated with soft tissue injury. The 30X formula is particularly well-suited for patients undergoing facial surgery. Small tablets delivered sublingually. One month supply.
Arnica Montana Blister PackA homeopathic remedy to reduce bruising associated with injectables such as Restylane and Radiesse. Provided in a 5-day blister pack for patient convenience.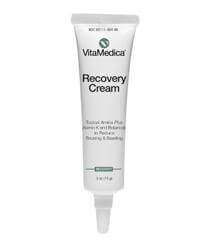 Recovery CreamFeatures homeopathic Arnica Montana plus vitamin K and botanicals, to reduce pain and swelling, as well as discoloration from bruising associated with soft tissue injury. Liposome nanotechnology transdermal system ensures delivery of active ingredients to the skin.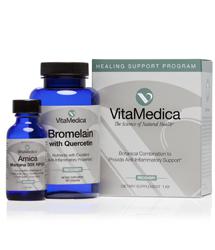 Healing Support ProgramIdeal for less extensive procedures (e.g blepharoplasty, breast augmentation) and non-surgical procedures such as Faxel and dermal fillers. Provides nutritional support to minimize inflammation and reduce bruising & swelling. Includes Bromelain with Quercetin & Arnica Montana 30X Bottle.
Anti Aging Formula Daily PacksIdeal for patients with environmentally-damaged skin. Daily morning/evening packets includes Multi-Vitamin & Mineral, Organic Flax Seed Oil @ Phyto-5. One month supply.